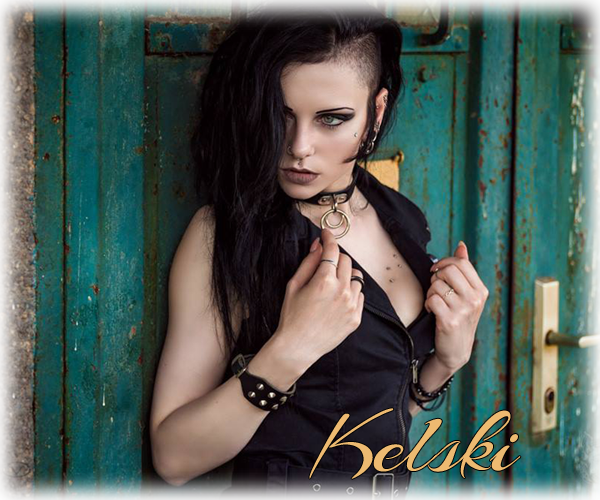 Kelski was quickly learning when Kynier didn't want to talk about something or didn't know what to say he simply didn't say anything. That was fine with her because silence was a sort of answer in itself.

No.

A whole host of reasons crossed her mind, all based on her experiences not his, but it was enough to quietly shut her down and back her off. Most of the reasons came from dark places and were of a negative bent. She realized how it looked and what she seemed to be.

Darvin was making her more. So had Jaren, in his own way.

It didn't matter that she judged her abilities as a sort of toolbox for survival and new skills such as magic as additional tools to add to it. One might not suspect a Kelvic to be really good at math, planning, and visualizing things, but she was. Kelski was smart. It was how she had survived. It was what made her an exceptional jeweler.

And in a way, his silence had been a rejection. She realized too that Sunberth had been changing her because she'd never be so bold in other places she'd lived. But in Sunberth one used what one could of another and moved on. Was that what this was? Kynier gave her nothing of himself. That was fine. It was his to have and hold. She had her own tools and would hold them close, taking a lesson from him if nothing else. Kelski had been to bold to ask him to teach her.

Tending his cuts made her feel good. She liked taking care of people. It was in her Kelvic nature to fuss over someone on to one to one basis. But his second set of wounds looked bad. It smelled rotten. "You need to pour alcohol in this one… leave it open. Get medicine. It's going to give you a fever and if it's not treated by a good healer, it will become more than just a wound. I would also leave it open to the air to drain and dry." She said, certain. He'd need it tended by more than someone like her. Should she warn him about the doctor in town? No. Rumors might get back to that doctor. And Kynier had said he had lived in the city for two years. Likely, he already knew the doctor tortured his patients even as he saved their lives.

Kelski nodded in regards to his words, but she worried he'd be losing an arm and then swinging a weapon wouldn't be much of an option. One armed people didn't live long. Certainly loosing an arm to a creature like her was death. He had to know his situation though. And it also made sense why he was tired. "I'm glad you know some weapons work. It means you are a well-rounded person." It was a stupid thing to say, but it was all she could think of.

Then he spoke of servitude and loyalty. She remained silent, not willing to help him understand the urges Kelvics had that they could not deny. He wasn't one, and thus he couldn't know. Just like he couldn't understand the differences in being a slave. That wasn't servitude. That was slavery. Serving someone was a joy to her, Master Li had been the sunrise and the sunset in her days. He'd been so old and had needed so much help. Master Li was kind and had a lifetime of knowledge he lovingly passed on to her. Making him happy had made her days complete. He'd taught her well, paid her fairly, and treated her like a daughter rather than the apprentice that she had been. She just wanted that again, someone who needed her as much as she needed them. Kelski was a realist though. She understood that Sunberth housed a different sort of people. And her odds of finding another Master Li was one in a million.

Kelski watched as he made his soiled bandages vanish. It was something she'd never seen before, but she noted it none-the-less. It would be handy to get rid of bodies, that much was for sure, though in Kelski's case, she'd eat them if she had a choice… at least the best parts of them.

"You are very talented." She said, nodding towards the space where the soiled bandages had been. "But I can tell you are tired. Magic has costs, doesn't it?" Kelski speculated. She hoped he lived close because between his wounds and his magic, she could tell he was walking a thin line towards exhaustion. "You shouldn't be here in this state. Your wound needs healing and you look like you need rest." She said quietly, more in observation keeping her tone gentle rather than rudely pointing out he was showing weaknesses he shouldn't be. He seemed even tempered, but one never knew.

Kelski wondered if she should offer to escort him home. It was too bold though, even for her.

She sat in silence at the foot of his broken column, content with the silence and the atmosphere of the Temple. Kelski stretched out her legs contentedly and tipped her head back to look up at him curiously. If she returned home The Barracks would be rowdy and Jaren would question where she was if she tired to slip through his room and into her own quarters. Yawning, she thought of the nest she'd made at the bottom of the old wardrobe in his spare room and how comfortable curling up in the pile of blankets would be just about now. She had a lot of work to do tomorrow, but that thought wasn't going to let it ruin the moment. It would be best to just live in the now, enjoy the current moment, and take what was going to come with a grain of salt.

Now was good and she was going to enjoy it.

The dawn streaked through the broken Temple and highlighted Kynier's face a bit. She watched the play of light across his features and wondered what the human was thinking. He had an expressive face that she didn't mind looking upon. So, she watched him quietly as he fiddled with something beneath his shirt. She wondered what it was but did not ask. She'd pried too much today and with a complete and utter stranger.

"I spend more time with Darvin so I know him better. I do not know much of Jaren. He's an unusual man." Kelski chose her words carefully. Her true owner was fairly different than anyone she'd met yet so far. "He's eccentric. He likes collecting beautiful and expensive things that others covet. He looks in the mirror a lot and worries more about how people see him than what he actually is inside. To him people are not people, but objects and decorations. He's the only son of Sun Birth's Warmarshal, which I think is an important position. They gave him many jobs in the past, but he's done abysmal at them. He lost them territory. So now hes in charge of the main housing of the gang. And even that building is now falling down. He lives in excess in his chamber but others have holes in their portion of the roof. I don't understand him, but no one will challenge his hedonistic ways because hes a brilliant swordsman. Having the Warmarshal as a father means he was holding a sword before he even walked." Kelski said softly, shaking her head. She closed her eyes and lapsed into silence, thoughtful.

Then she heard it… the delicate scratching of something familiar. The Kelvic tensed, slowly faced towards where the sound came from and narrowed her eyes to use her sharp eagle vision. She went from calm relaxed young woman to kelvic predator in a heartbeat.

In the dawn's dim light and because they were being somewhat quiet and Sunberth's rats were bold, a rodent stepped out into the light. Kelski was quick, more driven by hunger than she was driven by caution. Her dagger arched out, sent off from her body by a flick of her wrist, and buried itself in the fat thick side of the monstrous rodent almost as big as a cat that stepped out from behind some rubble in its early morning quest for tidbits. The Kelvic was on her feet in a heartbeat and light footedly running across the stone to close the distance and chase down the staggering rodent. It hadn't been a clean kill, and by far wasn't her best throw, but it did the job of slowing down the rodent to let her get a chance to get her hands on it and kill it. It staggered off, screaming, and the Kelvic had it dead before Kynier could blink.

Kelski bent over it, took its head off, and slit it throat to vent and peeled back the skin on the animal, before carefully gutting it and leaving the offal for the rest of the rats. Had she been alone, she'd have eaten it whole and not suffered for it. But she was mindful of Kynier and what sensibilities he might have. She carried it back to the pillar by its tail and carefully began to slice off still steaming pieces of meat to eat. Between bites, she complained a moment.

"They don't like to feed slaves well in The Barracks. Thin brought and hard bread is the usual. But I was supplementing my food with rats which I like just fine…." She ate as if was ravenous, not minding at all that the meat was raw. There was a surprising amount of meat on the rat as she made short work of it, tossing bones off towards the offal pile as she stripped them of flesh with straight white teeth. "Then the boys, the youngest ones, brought in a cat. She was okay… didn't take too much of my kills. But then she had kittens and now there are nine of them. Rats are so hard to find now. I might have to eat the cats, but the boys are very fond of them. If they treated them badly I would eat them to save them a life of misery. But they don't… they love them … so they'd be missed if they disappeared. So I leave them alone." Kelski grumbled, a bit of fresh blood dribbling down her chin. She didn't offer to share the raw feast with him. Humans liked their meat cooked. Instead she just ate quietly.

"Do you have a master?" She asked, curious suddenly, tossing him a question almost out of the blue. Maybe that's why he didn't mention teaching her magic. Maybe he was only an apprentice. She was used to apprentices. They'd run amok everywhere in Lhavit, causing mischief if their Master's in the towers didn't keep them busy enough.