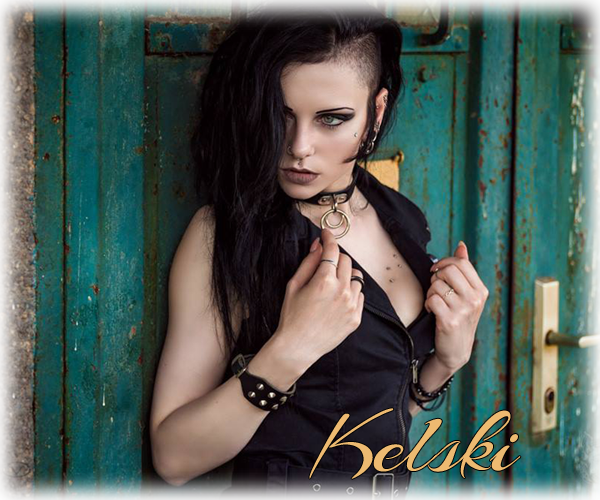 Timestamp: 20th of Spring, 518 AV



She walked in the predawn light, light-footed and cautious. Though Kelski appeared alone, she was not alone. Shadows swarmed around her, curious at the newcomer and welcoming the distraction of their mundane purposeless lives. It had been so long since someone had ventured here other than taking momentary shelter to evade pursuit or to step out of the weather momentarily. But this was someone special, a Nightstalker… a daughter of Akajia who could not only hear them but see them.

What the Shadows saw and assumed of her was not what she was though. There was no strength, no independence, no powerful confident woman marked by a Goddess to serve Her in the ever-continuing search for the greatest secret of all lost in time. This Nightstalker was lost to the fold; traumatized. She was a walking lie. Enslaved, owned, and broken in so many ways… the Nightstalker walked the walk of someone driven, searching as she was born to do, but for the wrong thing because she was so far astray of her own kind and in many ways a stranger to herself.

Kelski stepped gracefully through the white tendrils of ground fog that were swirling their pale ethereal fingers across the broken stone of the Unknown Temple. She had searched the Castle Commons, a district that was often referred to the heart of Sunberth. It was a dangerous place, full of what was often called the best and worst of the city. Its heart was a mysterious relic that was rumored to be left from before a time when the God Ivak had destroyed the world in his grief. The Temple Of The Unknown was a behemoth of a ruin that sat alone and unused, marking time only by its slow decay.

The Temple of The Unknown was known as the oldest of Sunberth's stone effigies. Kelski had often likened the city to a giant corpse, sprawled out washed up next to the sea, slowly rotting in the sun and rain and changing of the seasons. She saw its denizens as insects that crawled through the corpse, slowly consuming it… speeding along its return to the earth. The Temple of the Unknown was its heart, as Kelski discovered, sitting at its center alone and abandoned.

She glanced around with silver eyes that were so pale they made her look blind. Taking in the darkness that she could almost see as well in as she could the light, the Kelvic felt a sort of sadness at the lack of heartbeat, the lack of priests, and certainly no perishers. The building had been easy to access. Its gates and doors stood open and she had just strolled right in. She was searching for someone, her master who had disappeared, as the shadows had told her. She'd immediately went to look for him, not out of some lack of loyalty, but because she trusted the dark voices that whispered to her and often kept her company when no one else would.

She paced steadily through the ruined insides of the temple. Anything of value had long been stripped away and its beauty exposed to the weather in the form of fallen walls and broken columns. Despite the scarred façade, Kelski could feel the calm and peace inside the Temple and she gravitated towards it. She was making no attempt to hide, to conceal her presence, but paced openly, depending on the shadows to warn her of danger.

She was a young woman, looking no older than perhaps her late teens or even twenty. Her face, once lovely, was full of the harsh angles of someone not used to a completely nutritious diet. Thin, weathered like the Temple she traversed, Kelski had long black hair that went ombre towards white at its roots. The hair fell in a waterfall around her, teased by the shadows as they paced beside the Nightstalker and whispered their secrets.

She was dressed poorly. Her trousers were rolled up at the ankles and cinched at the waist to hold them up. A white tank was covered with another patched but very worn boys shirt. It was rolled up at the sleeves and its tails trailed down her narrow hips like a dress. She'd left a cloak behind so there was nothing to shroud herself in. Nice boots graced her feet, not overly expensive, but not worn and in decidedly decent condition. She was proud of her boots and treasured them. They carried her safety through the rubble, her eyes casting about for the one she sought, looking, seeking, growing more and more curious about where she was and less and less curious about where her Master had gone off too.

The Shadows themselves were making friends. "Nightstalker. What is your name?" One asked, caressing her hair and pulling at her oversized sleeves. It had whispered to her of the temple, welcoming her. There were several others about too, curious, but not speaking as they brushed up against her and wandered off, drawn and warned at the same time.

"Kelski…. I am Kelski. and I look for something…" She said softly hoping they'd be receptive in helping her. The one who had spoken first acknowledged her answer. "Dawkar. I am Dawkar. This is my home…." The shadow said, his voice decidedly masculine.

Kelski tilted her head, looking around, fascinated. "What can you tell me of this place?" She asked, curious, and then asked one more thing…. "And how long have you been here?" She added, feeling better that she was not alone and these shadows seemed friendly.

She didn't muffle her voice or conceal that she was talking to something 'other' at all. In fact, Kelski wasn't even trying to be desecrate. It was almost morning and she'd been hunting through Sunberth the entire night.