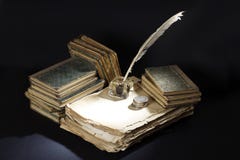 Hello Players!

We've had a lot of nice prizes and extreme contests lately. We're going to take a bit of a break this weekend. There won't be any extreme prizes, no magic items, no incredible feats of writing. However, if you folks want some incentive to write, I'll gladly promote that in a good way.

This was heavily requested by some resident 'almost completely broke' PCs. Let's write for IC coin! This weekend's doings will be fairly simple. For every 1000 words you write (on any topic) you can earn 100 GM. That means register to participate and include word counts of every post in replies and every thread you might solo out before 9pm Sunday night PST. We will award the coin Monday sometime. This might be your only chance to get out of PC jail (the slavery factor of broke PCs) by writing your tushy off this weekend.

This is a good time to get your job threads done... solo out some skill building and over all add to your plotlines.

The format should be something like..

PC NAME:
THREAD LIST + Word Count:
POST LIST + Word Count:
TOTAL WORD COUNT:

I will run down the list 9pm Sunday night and close out the contest.



Enjoy!

Goss