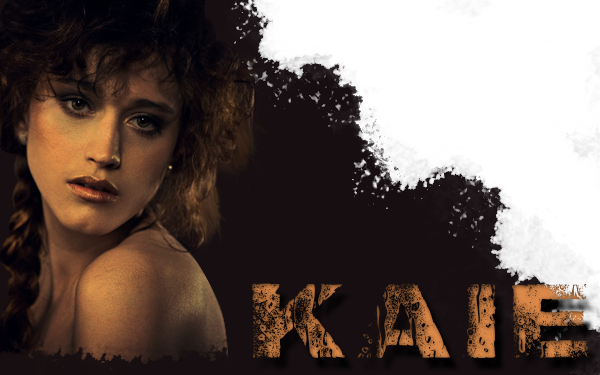 Keep them back, keep them back,

came the perpetual mental chant within the exotic warrior woman's head. The spear in her hands swayed with the movements of the final cleaver-wielding man before her, jerking it at him whenever he attempted to test her resolve. The make-shift spear had done its job. It bought her distance, a few extra ticks to persevere against the pain in her side. A protection from the exploitation of her physical weakness. The cook beside her was a flurry of calculated strikes, and the screams he elicited out of his two adversaries was enough to make the savage shoot him a curious glance once out the corner of her eye.

All had exploded forward in their quest for blood...Fallon, Zandelia, Noven, and the formidable force that opposed them. She could hear the not-so-distant clashing of blades and bloodcurdling shrieks that signaled death. There was that telltale dilation in her eyes, the quickening of her pulse to feed hungry muscles, and the clarity despite her busy surroundings as adrenal action was executed. Then, just when she thought she was to punish him with a more aggressive jut of her spear, the cleaver-man's nervous gaze turned toward a newly available Noven, and he rushed at him with a shout. Kaie's confused amber gaze flicked away and toward the new opening. Fallon had her hands full with a variety of thugs. Across the field she could see the dueling blonde and her towering, jungle-born foe. Tsu'kai's face flashed before her.

Never again.

Her decision was made before she had a chance to reconsider it, and despite her ex-superior's scolding, her voice rose again as she stormed their way more fiercely.
"I. Said.

Mine,

"
she roared in their shared tongue as the taller of the two savages grounded their foe with a strike, a cleaver raised to bring their dance to a fatal end. Sheer confliction drew across the face of the opposing Myrian as she hesitated in executing her killing blow. There came that angry tightening of her expression and Kaie watched as the cleaver was jerked resentfully in her own direction.

No one will be killed by my blood. Not mine,

came the first thought of relief when the jungle-woman turned from Zandelia. However, those wishful notions ceased the tick she saw the furious eyes of her racial sister. Lips pursed at the threats called in their language, and her fingers wrapped more tightly upon her spear.
"This is not the way!"
Kaie hissed as she fell into a defensive crouch, the spearhead lowered slightly as if to promote peace between them. The taller Myrian's lips turned into a sneer.
"

Ma'khan'um

!"
She spat, lunging forward at her with a downward cleaving of her weapon. Kaie shot her spearhead forward but her target danced skillfully out of its way. The cleaver came down again from above. The younger of the two savages ripped her spear upward with both hands, barring the edge of the blade from reaching her with the length of the shaft. Wood split, and by the time Kaie mustered a forward kick into the woman's hips to separate them, her spear was naught but two large splinters. She cursed and discarded them upon the ground. Her bronze right hand tore free her father's ancestral gladius from its sheath, the sharpened edge gleaming fiercely in the morning sun.

This time it was she that gave the battle cry before they met again, giving a horizontal swing of her sword at the woman's middle. Gnosises flared against one another. Cleaver went into motion, the first time parrying her attack away so hard it spun her opponent like a top, the second time punishing her with a slice to her right forearm. Kaie let out a cry, falling back and stemming the fresh blood with her free hand.
"Already lost the fight in you,

Sha'lokk

?"
The other Myrian woman began to stomp toward her again with her cleaver gnashing through the air.
"So desperate to save worthless

Deyhans

when you can't even protect yourself!"
Kaie grimaced, straightening despite the attack on her ego and the protest from her pre-existing injury.

She has speed. Experience. Strength. Close quarters now. I can't rely on distance to save me.



The woman lunged in again, sparks flew as gladius and cleaver clashed, and between their savage screams as their battle continued, the fight was far from even nor finished as Kaie struggled against internal and external adversity.