.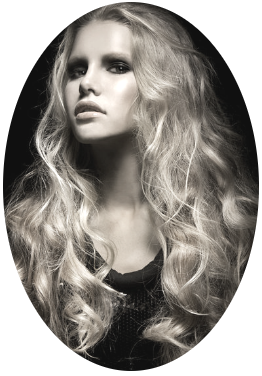 Race: Konti
Age: 63 (born Fall 42, 453 AV)
Birthplace: Kenash, Cyphrus
Like all Konti, Estrellir has a fit and healthy body, although only standing at 5'3'' (160 cm). Her figure is slender and appears rather boyish, lacking any feminine curves. Her skin is creamy white. Muscles are wired and stringy rather than bulky, if anything. Opalescent white scales spiral over her entire body, drawing patterns up and down her legs, arms, belly and back, finally fading out on her cheeks while softly accenting her eyes. The latter are of a dark violet shade. Her features are fine and sophisticated with prominent cheekbones, a slender nose and expressive mouth, framed by soft locks the color of ivory. The longest strands touch her chin, but not her shoulders, and frequently fall into her eyes. Translucent webbing stretches between her fingers and toes. On the back of her left hand a single stylized lily blooms in violet and white, her gnosis mark of Avalis.
Her wardrobe reflects taste and a sense for fashion, although she does not care for it. At work she wears practical clothes in black, grey or dark tones, simple cuts designed to be practical, no accessories. In fine society, she indulges a little, choosing more intricate designs, flowing fabrics, sometimes embroidered or otherwise decorated. Her colors are of the sea, blues, greens and even the occasional pastel pink. She wears jewelry, although sparse. Still, she prefers pants and only wears dresses that end above the knee. Hats are the closest to a penchant she gets, all kinds of hats. If circumstance demands it, however, she wears anything and everything with no preference at all.
Estrellir is a person of logic and reason. Emotions are only disturbing and even useless, so she tries to blend them out whenever possible. Thus she has a cool and aloof aura to her, although she does not succeed in ignoring them at all times. They can be useful if controlled though. Gifted with a natural talent for acting, she tends to play the role of the typical soft-spoken Konti both in public and with her family. Therefore, she cares for personal hygiene, keeps her hair long and soft and a remotely fashionable wardrobe. Above that, she appears to have genuine interest in other people's matters, miming a good listener and a trustworthy confidant, although all knowledge is used to benefit her and her family. Loyalty to her family is absolute, only overshadowed by a growing thirst for power. She craves being in control and relishes the thrill of manipulation, although she does not quite realize it yet.
When not socializing, eavesdropping or researching, she can relax through smoking Zulaca tobacco, nursing a drink or enjoying sweets, especially Draer chocolates. Smoking helps her think too. She is a bit of a cat person and likes them better than sentient races.
Estrellir was born in Kenash as second daughter to Lorenzo Konrath, the family head. As a child, she rotated through many professions and trades associated with Konti and Akalak, but none caught her interest. She was sent to Mura for a change of scenery and broadening of horizons and spent a few years among sisters, learning the ways of her ancestors, getting to know their culture. The thought of staying and leading their peaceful life never occurred to her though. After returning, she took an interest in politics and started honing skills of questionable nature behind the scenes. A few years ago, she came up with the detective shop and threw herself into work. She has supported her family with secrets gleaned through the shop and her Konti gift ever since. Lately, ambitions have risen though.
.