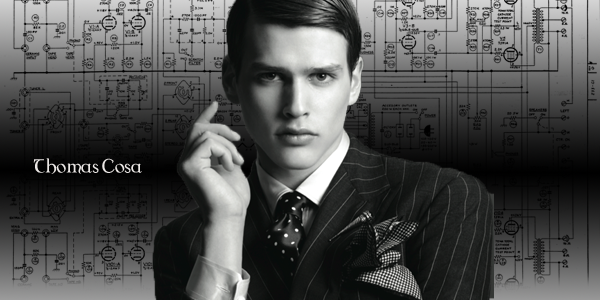 Thomas acknowledged Alses with a brief smile, his coal eyes darkening with mischief, "Yes, it

is

good to see some familiar faces playing volunteer. I don't know if I would count yours among them, though," he sighed, his gaze lingering obviously on her newly sprouted horns. Black and almost pricking into her marbled skin, he wondered if it was as obvious to the rest of the group which horns belonged and which didn't as it was to him. "

Thankfully, it seems like we're all of the same mind to accomplish something against this...thing

," Thomas continued, his tone vulgar and offended and pointed entirely at the statue. Smug and pretty she stood in her fountain's center, her stone masterfully sculpted. The audacity she had, or whomever her creator was, to throw him into the pits of the unknown with this new magic. Someone would pay, he'd decided, and finding out who was responsible was incentive enough to show up.

The sky roared at distance, reaching Thomas' ears as a nothing more than a loud purr. It flashed, a sudden brightness to the east that died into the heavy black clouds faster than he turned his head. "

I'm Thomas

," he started, both his and Stranger's gaze fixated once again on the offending statue; he wasn't interested enough to bother looking around at his fellow questers. The statue deserved all of his attention, at least until someone else in the group randomly affected people with new magics. "

And I work at the Dusk Tower as a professor. I want, like most of us here, to find out the exact source of what's happening in our glorious city

," he offered a practice smile, and perhaps Alses - and anyone capable of Auristics - would know that he didn't care about the city at all. Thomas was here for himself, and him alone.

He shot Izyuanai a vicious look as she suggested his magical participation, "

Perhaps we might allow Alses the honor instead? I couldn't hope to match her sight

," he added a quick smile, deciding that if he was to be noted for a mage so early, so would everyone else. Still, his magic crawled from him, as desperate for answers as he was. It sang information as it dances on the pebbles marking the square, making an awkward effort for the fountain, as Thomas bickered against his nature. He wasn't entirely sure he wanted to touch the statue or its waters even with magic, considering what had happened the first time. "

But I will do my best. Three pairs of eyes far outmatch one

," he nodded, his magic flowing easier as he consented to it's exploration. It flooded the fountain's own waters as it rose again to overtake the statue, holding dearly for any and all pieces of magic that could try and escape the spell's grasp. "

Perhaps someone less capable might care to explore the statue mundanely? We might miss something, even with magic

," he offered a suggestion, desperate to be seen as a willing and happy participant. Thomas needed the group to see him as an ally as they feel down this mystery hole together. He wasn't so stupid as to try this alone.

"

Perhaps if we're quick about this, we might finish before the storm reaches us

," he mumbled unhopefully, the storm growing louder and each flash brighter as it came ever closer. Gods, rain wasn't something he wanted to deal with today.