tiny filler words

General
Average height, with dark skin and hair that is well cared for. Body build is a little on the voluptuous side, but her upper arms and shoulders are toned, leading up to a graceful neck. Makeup and jewelry is meticulous, though not as grand as it was in her previous life. Her hair is naturally very dark brown, but she paints red streaks into it every few weeks. Her overall look has the impression of being well-manicured, each feature being particularly styled and maintained. She has six arms and is dextrous with all of them, though does favor her right, middle hand when writing. As of Summer 514AV, Rosela is pregnant and her belly will continue to grow until early Summer 515AV, when she is due.
Bodily Marks
:
One Lacun mark, indicative of her dissolved marriage, appears just below her sternum, an inch below her breastline. The mark appears as as three very faded chain links, two of them broken. This mark is

always

hidden.
One Mark of Akajia, in the shape of a dark crescent moon, appears on the back of her neck, just below the hairline. This mark is hidden whenever possible by keeping her hair down, as she does not want it common knowledge that she is marked by Akajia. (thread)
Kuvan mark indicating her citizenship of Riverfall, on the underside of her left, bottom-most wrist. It appears as a small, teardrop shape made up of spirals and dots. This mark is not hidden, though she resents having been permanently marked for her citizenship.
A plain gold undan, a band indicating her Nakivak status, encircles her lowest, left wrist. The band is easily not noticeable among the other gold bangles she wears.
Spring
On the first warm day of the year, she sheds her winter cloak in favor of a lighter one. Pants and leggings are put away in favor of dresses, always sleeveless for freedom of movement for all her arms. Later in the spring, even the light cloak is not necessary, and she switches to lighter footwear as soon as possible.
Summer
Summer, her favorite season, finds her out in a loose, fluttering dress. The fabric is light and airy, and sandals are a must. It's in the summer where she gets the most experimental with her fashion.
Fall
Summer wear still applies while it's warm. Because she requires sleeveless garments, so her arms are free, she will simply don her light cloak over her dress to stay warm. Sandals start getting replaced with her high boots.
Winter
Winter dresses are wool knit, and are paired with leggings if necessary. Her light cloak has been traded up for a white fur one, silk lined and very warm.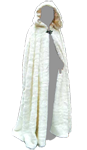 Other
| | |
| --- | --- |
| Race | Eypharian |
| Gender | Female |
| Age | 27 |
| Birth date | 24 Summer, 488AV |
| Birth Place | Ahnatep, Eyktol |
| Height | 5'6", 5'10" in heels |
| Weight | 150 |
| Profession | Owner of Red Diamond Fashions |
| Location | Riverfall |
| Beliefs | Akajia, Xyna |
| Likes | Fashion, Gossip, Wealth |
| Dislikes | Weak People, Lesser Races |
| Aspirations | To be the source of all beautiful things |
| | |
| --- | --- |
| Fluent Language | Arumenic |
| Basic Language | Common |
| Poor Language | Tukant |
tiny filler words
Business

: RDF is going to be the biggest thing around. Just you wait.

Wealth

: Buckle down and make it happen. There's no excuse for being...ick, poor.

Fashion

: Autumn colors in Summer? What's wrong with you?

Men

: I like 'em big. The more muscles, the better. But not too smart for their own good.

Beauty

: How can you not see I'm the best looking thing in this room?

Gossip

: Sure, I like the latest dirt, but Gods help you if you dare to sling mud at

me

.

Racism

: Just accept that some races are made to serve others. It's the way of the world.