.
Kendall Saarinen
"All the love I want to give gets caught between every rib. What does that make me? I have good intentions, but no exit for them to come out right through. I'm in the wrong body. I must have stumbled in..."
-Cody Bonnette
As I Am Now
Race: Human
Birthday & Age : 5th of Summer, 489 AV (22)
Gender: Male (Formerly Female)
Walking The Path of Fire
"You leave home and you move on and you do the best you can.
I got lost in this old world and forgot who I am."
-Miranda Lambert
Kendall Saarinen was born in Zeltiva to a well off family of scholars. She lived in Zeltiva with her parents, her two older brothers, and older sister. Both parents were scholars. Her mother Marie, a Literature Scholar, and her father Da'nel, a Science scholar. Kendall was studying to follow in her mother's footsteps as a Literature Scholar and an author. Her sister Suanna (age 29) chose to be a Mathematics Scholar while her two bothers Ra'kel (age 23) and Layton (age 25) went on to be sailors for Zeltiva. The entire Saarinen family was extremely close and family oriented. Kendall remained living with her parents until the day of her
accident
. Her bothers and sister lived in their own homes but often stopped by her parents home. Everyone in the family knew everything about one another. That is why when Kendall went missing her family was completely shocked. How could she have disappeared when they could not think of a single reason she would go away?
The Accident (50th of Summer, 510 AV)
One night Kendall was heading home from studying with her literature mentor. She was never scared of walking the streets of Zeltiva at night. People knew who her parents were and only a fool would even dream of laying a hand on her. Sadly, there was someone wandering that night who did not care who Kendall's parents were. He crept through the shadows with his apprentice. The two looked normal enough. The mentor and older of the two was a man who seemed to be a bit on the older side with thinning grey hair and his apprentice was a handsome 21 year old male with blonde hair. They looked like they could be a father and son and that was exactly what they were posing as. The young man believed that he was going to get his first real lesson on animation but he could not have been more wrong.
The man told his apprentice to head back to their lab while he kidnapped Kendall. The boy did as he was told. He would have done anything to impress the master animator that was his mentor. The man tricked Kendall into returning with him to his lab and once there the man proceeded to attempt to experiment on her. The man hypnotized her so she could not move and then placed her in one of the circles. She wanted to struggle and scream but she could not get her body to move. Soon the hypnotism was so strong she could not see anything around her. The man began to start the experiment and then suddenly she heard a yell. There was what sounded like a struggle between the man and his young companion and then a thump on the other circle of the animation circles. Before Kendall could even begin to wonder what was happening there was what seemed to be a disruption in her thinking. It was like she was not connected to anything anymore.
When Kendall came to the lab the man and his assistant were gone. She was unsure if what happened was a dream or reality. She looked at herself but things seemed off. Her body did not seem right. She quickly got to her feet and her whole body felt weird and wrong. She searched the lab for a mirror or anything but nothing was left in the house to view her reflection in. There was no other choice, she had to head home. Her family would accept her no matter what. They had to, or at least she thought.
Kendall walked through the town trying to find anything that she could see her reflection in. Finally she walked past a small shop. She could see a full scale mirror through the window and ran into the store. Her heart raced in fear and all she could think was
Please don't let me look like a freak."
She prayed to any God who was listening. Her heart stopped when she looked at her reflection. She was not deformed or in any way ugly but who she was looking at was not in any way her. In the mirror a blonde haired man with miss matched eyes looked back at her. She was on the verge of tears and she reached a hand to her face so see if this man really was her. The man in the mirror reached up to his face too. It was true, she had been trans formed into a man.
The streets blurred around Kendall as she (now he) raced through the streets to her home. When she got to the door her sister answered and shot her a sultry smile. Kendall tried to explain who she was but her sister did not believe her. Soon her entire family had gathered at the door and she was crying, begging to be let into the house and the door was closed on her. Her family abandoned her when she most needed them and she had no one. She refused to give up, she needed to get home. Soon a fight broke out between Kendall and her family which resulted in a physical fight between her and her oldest brother. She was on the verge of killing him when a voice came to her. At first she thought she was going crazy as some side effect of the animation. Then the voice introduced itself as Ivak, the God of Fire, Volcanism, and Emotion. That was when a warm sensation wrapped around her wrist and in its wake was what looked like twin red flames wrapped around her wrist. Ivak had marked her and from that day on she was an Azenth, a follower of Lord Ivak. Now she seeks him as well as someone to call home due to the fact she has lost her own.
In My Head...
"The volume's down. Blue lights are dancing around. And still, I can't seem to find, the quiet inside my mind."
-John Mayer"
Kendall is a very confused and internally conflicted person. He is severely emotionally scarred but does not let on about it to other people. He feels rejected and unwanted due to the fact his family will never speak to him again unless he can figure out a way to return back to his normal body as a female. He often can be found daydreaming. In his dreams he is who he wishes he was, a female. He feels safe in his memories so he often daydreams.
On top of being generally confused about his new life as a male he has a lot of sexual confusion. He is much like a female trapped in a male's body. He mentally wants to be with a man but physically with a woman. He believes he will never fall in love and he will never have an actual family again. He sees himself as a scar on society at times. He does not feel like anyone wants him around. If one talks to him it is completely impossible to tell how much resentment he holds for himself though. When he speaks he seems like a fully functioning guy but that could not be farther from the truth.
Personality-wise Kendall is a bit awkward at times. He still is getting used to his new body and the fact he is male. He will at times do feminine things like touch someone when he is talking to them or will play with his hair when he is nervous. As time goes on he is slowly getting more masculine but he still has problems suppressing his more feminine habits. He will occasionally come off as being a homosexual but he really is not sure of his sexual orientation.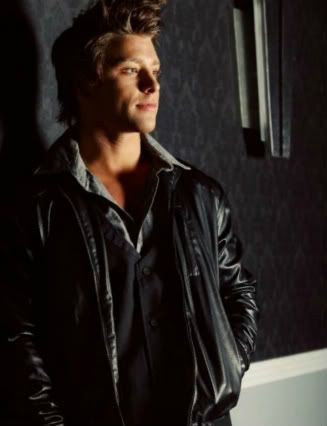 Kendall is a very clean individual. He does not like to be dirty or smell bad. He takes showers daily and will often take more if he gets dirty. He still tends to use more girly smelling soaps because he likes to smell good.
Although Kendall is a male he still seems to be prone to monthly boughs of emotional instability. These usually last about a week and happen about the same time each month. He almost seems bipolar during these times because he tends to either get extremely angry or cry almost out of nowhere. Other than these times Kendall is actually quite calm and a little shy. He is still a bit embarrassed of his low voice.
Quite often Kendall will experience cravings or feelings of want that he does not know the source of. At times he might crave alcohol or even food that he has never had. These cravings can only be justified as addictions of the man who's body he now is bound to.
All in all Kendall Saarinen is a very odd individual (for good reason of course) but is not fully aware that he is a bit strange. All he really wants is acceptance, love, and someday to be changed back into a girl.
Just Borrowing...
"Well, I know it's been years now and I don't look the same. And the hopes and dreams you had for me, you thought went down the drain. And the room feels so empty where my pictures used to be. And I can't say that I blame you, but you can't blame me."
-Jaret Redick
Kendall is about average height for a male human. He is very good looking (although he will not admit it out loud). He has a well toned body but is not extremely buff. He has shaggy platinum blonde hair with bangs that are almost always sideswept or hanging in his face. He almost always has stubble due to the fact he still is unsure how to give himself a good close shave. He never has a beard due to the fact he finds it dirty and uncomfortable.
All in all Kendall appears to be a normal twenty-two year old male except for a few minor details. The first is the most obvious of all. Due to Kendall's forced transformation he has developed heterochromia, a genetic disorder of the eyes where each eye is a different color. This disorder does not hinder him at all, in fact he has nearly perfect vision. His eyes are almost haunting because one is a beautiful shade of light green and the other is sky blue. This is a omnipresent reminder of who Kendall once was. His original eye color was green but when he was transformed into a male he was supposed to have blue eyes. Strangely both of his eyes did not change. He is unsure why, the best he can guess is the animator who experimented him lost focus or maybe the transformation did not finish properly. To this day he does not know why his eyes do not match.
Kendall keeps himself looking as best as he possibly can due to his previous orientation as a female. His hair is always perfectly styled and his clothes, although not the most high end, are always well taken care of. In some ways one can see Kendall slowly giving into his male body due to the fact he is starting to dress more like a twenty-one year old male and not a Twenty-one year old male dressed by his fashionable girlfriend.
As Seen Through New Eyes
"Whoa it was easier before I loved. Before this heart was turned to stone. Before this blood was stirred and blood was spilled. No one was ever meant to be alone."
-Gavin DeGraw
Since Kendall's accident he has left Zeltiva in hopes of finding the animator who stole his body. Before leaving Zeltiva he met
Cathan
a wolf Kelvic. After meeting the two decided to travel together. Their only goal was to head out of Zeltiva and to see other places. The pair left Zeltiva on the 20th of Winter and began their journey toward Syliras, their first stop on their trip to nowhere. On the first day of this trip the pair met
Sondra
, a Konti seer and a fellow Azenth. After a bit of talking the three of them decided to all travel together to Syliras.
Kendall only meant to stay in Syliras until the first of Spring but on the 85 of Winter Kendall met
Hadrian
, a mage who had attended the University in Zeltiva with him back when he was a female. The two spoke for the first time at Kova's Well and in that conversation Kendall accidentally let on to Hadrian as to who he really was. He mentioned that his name was Kendall Saarinen and from that slip up Hadrian knew who Kendall truly was. More importantly, he accepted him. Because of this meeting Kendall did not leave Syliras on the first of Spring like he had planned because he started to have romantic feelings for Hadrian.
The Spring and the turn of the new year (511 AV) proved to be much more interesting. Kendall's feelings for Hadrian were only getting stronger and the Azenth was starting to feel similar emotions coming from him. Kendall would have never noticed this but his mark from Ivak gave him the ability to sense suppressed emotions. On the 4th of Spring, Kendall was at Hadrian's apartment when his clothing set on fire while trying to learn auristics. Because of this, the pair went to buy Kendall new clothing at An Elegant Weave. It was here that Kendall and Hadrian had their first kiss in the fitting room. The pair did not mean to get romantic that day but when Kendall found himself crying in the fitting room Hadrian's lips were the force that made the tears stop. From that point the pair only became more close.
Later in the season Kendall literally ran into a mixed-blood Symenestra named
Seven Xu
. At first Kendall was a bit scared of him but as the two got to know each other at the Rearing Stallion (and Kendall got progressively more drunk) a strong friendship between the two formed. Later on in the season Seven and Kendall met up again at the shore of the Suvan sea to see each other one last time before he left to head to Ravok. It was a teary meeting and during this time Kendall told Seven about his secret, that he was actually a girl.The fact only brought the two closer. Because of this, Kendall considers Seven to be his best friend.
Another person in need of mentioning is
Jaelyn Baroth
, a squire for the Syliran Knights. When Kendall first met her he barely talked to her. As the pair talked to each other more they started to get closer. On the 75th of Spring the pair both found themselves at the Temple of All Gods where Jaelyn admitted to Kendall that she had romantic feelings for him. Because of this, Kendall told her about his accident. Much like Seven, Jaelyn was surprised but accepting and because of this Jaelyn also became one of Kendall's closest friends.
On the second of Summer, Kendall, Hadrian, Sondra, Cathan, and a Lammergeier Kelvic named
Ethan
began their trip to Ravok. While Kendall had met Ethan prior to the trip, the pair got to know each other much better on the road to Ravok. Ethan was a friend and student of Hadrian's and was eager to meet Kendall. Since meeting the pair have become good friends.
As the days passed in summer Kendall started to get more and more anxious and nervous. He was having trouble sleeping and would often experience panic attacks. Halfway through the season, Kendall had a horrible panic attack. This caused him to run off into the night with Hadrian trailing behind. The panic attack was due to the day being a year since his accident. Hadrian tried and tried again to calm Kendall and finally in the end the mage was able to calm him enough to help him to ease into normal behavior once again.
Once in the city of Ravok, Kendall ran into an old friend named
Aello
. The pair had been best friends when they were younger but parted when Aello's house burned down and Kendall presumed her to be dead. The pair were very surprised to see one another. Kendall was surprised his friend was alive and Aello was even more surprised since her then best girl friend was now a man.
-To be continued-